Scalable WordPress by Elastisys
Scalable WordPress is a packaged solution that combines industry best practices for deploying and configuring WordPress with modern technologies and industry-leading auto-scaling. Scalable WordPress enables you to achieve high performance and scalability in one deployment. Scalable WordPress can be deployed anywhere CoreOS can run, in AWS or in any OpenStack-compatible cloud.
It includes load balancing, SSL termination, a networked file system, a clustered database, HTTP acceleration caching, and database offloading via caching. The Elastisys Cloud Platform ensures that there is just the right number of each component deployed by using our patented predictive auto-scaling engine. Performance is optimized for WordPress sites of all sizes, and administration is as simple as for a single-server deployment.
Join our automation revolution! Let your WordPress site have the performance and stability your content deserves. Contact us to set up a demo and talk directly to our team of cloud automation experts!
Designed to Scale

A truly scalable WordPress install is composed of a number of components. Industry best practices dictates that the following components are installed and configured:
a high-performance load balancer,
SSL terminators to offload the web server and caching servers from dealing with SSL encryption, while still offering it to site visitors,
an HTTP accelerator and caching solution such as Varnish,
WordPress itself, hosted in a high-performance web server
memory caching solutions, to offload the database and file system,
a networked file system, to let multiple WordPress servers share a file system, and
a clustered database compatible with MySQL to contain, among other things, WordPress' pages, posts, and comments.
Elastisys Scalable WordPress includes these components, each deployed in individual Docker containers. Multiple instances can be run of each component, making it possible to perform fine-grained scaling operations on the component level. The Elastisys Cloud Platform predictive auto-scaler can scale each component individually according to the metrics that are most important for each particular component.
DevOps Distilled and Best-of-breed Software Solutions
We are dedicated to revolutionizing cloud automation, and the Elastisys Scalable WordPress product really shows it. Automation is present in every component and at every step in configuration and deployment of the entire environment. When a new component instance is added, it will immediately be discovered by the other components and configured for use. When it is removed, another reconfiguration happens. Some components, such as Varnish caching and SSL termination, are optional, and the environment automatically reconfigures itself as these come or go.
The Elastisys Cloud Platform predictive auto-scaler ensures that your site always has just the right amount of capacity, for each component in the Scalable WordPress environment. Because why scale out the web server component if high load is really caused by a large number of SSL sessions that need to be dealt with?
The Elastisys Scalable WordPress environment consists of the following best-of-breed software packages, configured by our team of experts: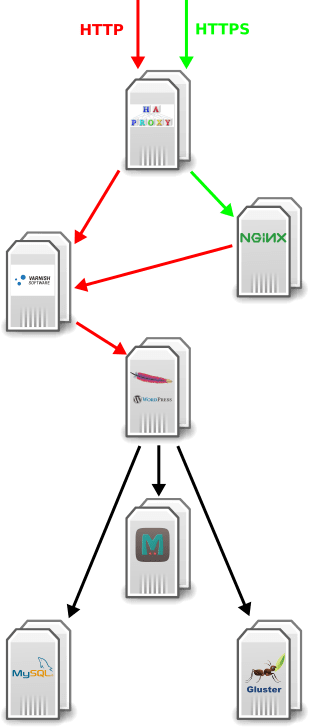 Request a Demo!
By visiting this site, you are already experiencing Elastisys Scalable WordPress as a site visitor. Would you like to get a demo of your own site running on the Scalable WordPress platform, please contact us and request a personalized demo. We can create a demo environment for you, help migrate the data that your blog is comprised of, and you can feel the difference for yourself!