We're thrilled to announce the launch of our Self-Managed Compliant Kubernetes platform with Elastisys support, marking a significant milestone for us. At Elastisys, we take pride in our commitment to enhancing security and regulatory compliance for critical infrastructure, as defined by NIS2, while providing a great developer experience. We're excited to see our vision align seamlessly with our customers' needs, propelling our rapid expansion forward. This new offering not only strengthens our capabilities but also ensures we meet the increasing demands of our valued customers.
Elastisys' vision is to enable organizations across Europe to accelerate innovation through open source cloud-native technology while ensuring security and regulatory compliance. With the newly launched Self-Managed Kubernetes offering, we now make it possible for our customers to achieve these benefits in their preferred infrastructure. Additionally, we recognize the benefits of multi-cloud strategies, allowing our customers to effortlessly transition their platforms from on-premises data centers to cloud environments and thus hedge against the ever-evolving legal landscape concerning data protection.
Secure Platform Customization with Elastisys Support
The new Self-Managed offering reflects Elastisys' commitment to providing customers with personalized solutions. It includes all the benefits of our Compliant Kubernetes platform, available on any cloud or on-premises, allowing customization for each customer's needs. A dedicated Elastisys team is available to promptly address customer support requests and make necessary adjustments to meet specific requirements.
Mattias Abrahamsson, Head of Professional Services at Elastisys remarks, "Our Professional Services team has been helping customers with this solution through consulting for some time. Today, we are excited that we have officially packaged this service to better meet our customers' needs, providing them with significant benefits." 
This new offering provides greater flexibility and security, demonstrating the company's commitment to empowering clients with top-quality cloud infrastructure. It's the ultimate choice for customers who want a security-hardened platform without data or tech vendor lock-in, hosted in the environment of their choice, and backed by expert engineering support.
"Opting for our platform instead of purchasing or building their own also ensures cost savings for customers," adds Rob McCuiag, COO at Elastisys.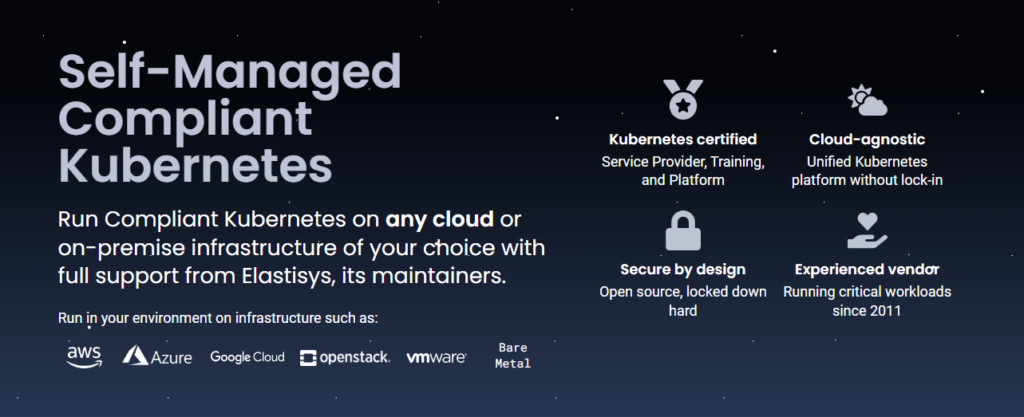 Enabling Secure and Flexible Cloud-Native Adoption
Successful adoption of Kubernetes is hard, and even harder for organizations with high security requirements. Elastisys has helped numerous customers adopt Kubernetes with confidence over the last few years, including securing platforms for critical infrastructures with sensitive data. 
As a Certified Kubernetes Distribution, our Compliant Kubernetes platform is a vetted solution built from community-leading approved components combined with best practices for information security and regulatory compliance. Our platform significantly reduces the heavy lifting required to achieve a secure production-grade container solution and has attracted usage beyond our managed service customers. 
Johan Tordsson, CEO at Elastisys, expresses, "We are happy to launch this offer that enables organizations to adopt cloud native without compromising security - in their cloud of choice, including their own data centers."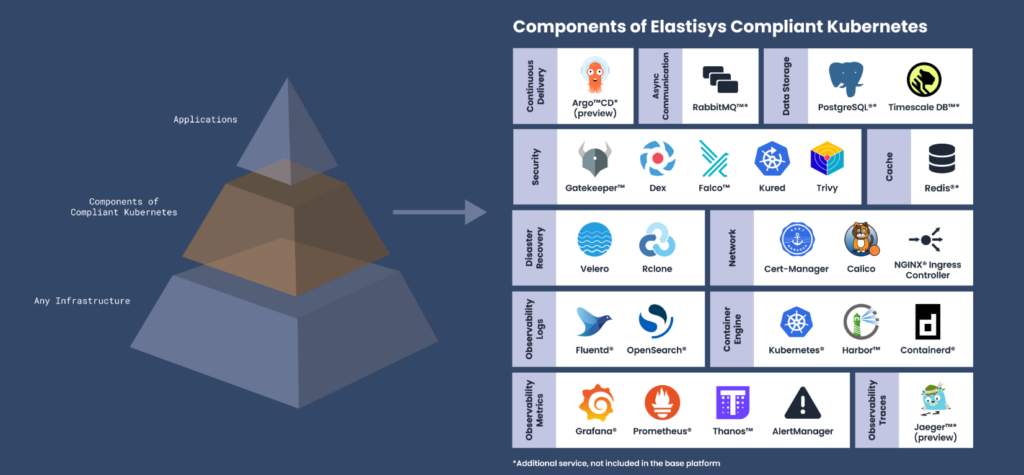 Addressing a Broader Market
Despite its recent launch, the Elastisys Self-Managed offering has garnered remarkable traction, particularly among enterprises with more in-house IT operations and therefore less accustomed to using our Managed Service solution.

"We have seen a growing demand for this type of solution when talking to customers running critical infrastructure. Launching this service gives us a great opportunity to provide a new type of customer with our extensive cloud native security expertise, and we will enable enterprise customers to succeed in their cloud native journey", says Simon Ekman, Head of Commercial at Elastisys
In short, the new Self-Managed offering enables customization and flexibility with expert support. Its purpose is to function as a strategic facilitator for organizations in need of a secure, tailored, and adaptable cloud platform.
Johan Tordsson expresses optimism for the future and sums it up by stating that "We look forward to addressing the rapidly growing European container software market, which, already today being a multibillion Euro market, shows significant potential for expansion."

Want to learn more about the solution for Self-Managed with Elastisys Support?