There is no doubt today that Cloud Computing has the potential to bring great benefits to those that adopt it. But, why is it important to monitor and automate things within this area? Well, there are plenty of reasons for you to implement good monitoring and automation tools – most obviously, you can then ensure up-time and availability, reassuring you that your systems are performing well.
With proactive monitoring, you can anticipate any problems before they occur, so instead of waiting to take action until your systems crash, you can identify issues and take proactive preventive actions before these grow into bigger problems or even outages. Scaling your resources based on the workload of your services is one such smart approach to prevent incidents. Automated scaling gives your end-users an improved experience and subsequently increases good customer reputation. Now, imagine if you could automate this process and have your different systems communicating with one another!
Is it possible to optimize this process and benefit from lower administrative burdens at the same time? You can only truly leverage the Public Cloud pay-as-you-go price model if you can maintain optimal resources at all times. With automation and optimization, you can allocate enough resources to give an increasing number of users a great experience and as users drop off, you scale down to reduce costs. In a public cloud, you save lots of money by not over provisioning. Since user activity can vary greatly over time, it is not feasible to manually scale resources up and down. There are a lot of great monitoring tools and a lot of great automation software out there, but strangely enough, these functionalities are rarely combined. We want to present you with a simple demo to inspire you to greatness – find out what you can do when you combine the power of monitoring and automation with the flexibility offered by a public cloud.
By connecting smart monitoring to an orchestration tool, you can set up fully automated systems that ensure an optimal cost vs performance ratio for your cloud applications. We are really after getting the human out of the loop with our combined monitoring and automation solution. Based on automated input from this monitoring, application owners can subsequently scale both up and down as needed.
We have visualized this in a demo in Slack
In this demo, we have combined the op5 Monitor with the Elastisys autoscaling engine and the City Cloud public cloud infrastructure to highlight the combined benefits of monitoring automation, and public cloud. The op5 Monitor regularly checks if the load seems stable. When an increase in load on the web server is detected, it will automatically alert Elastisys that will notify City Cloud to add another web server instance when needed. If more than one machine is required to cover the current increase in the load, Elastisys will notify this to City Cloud as well.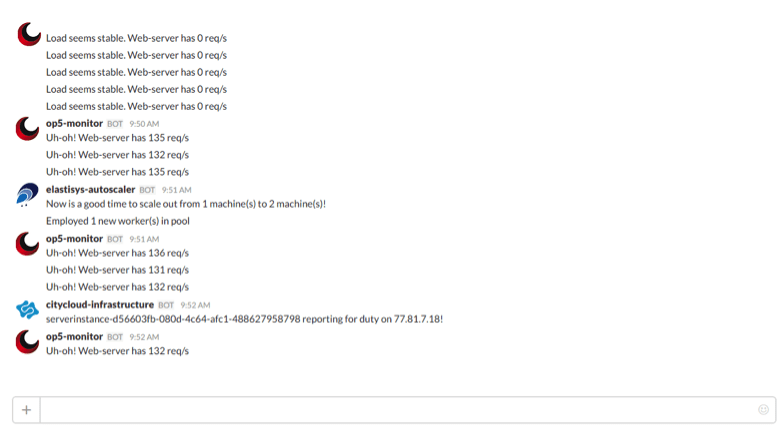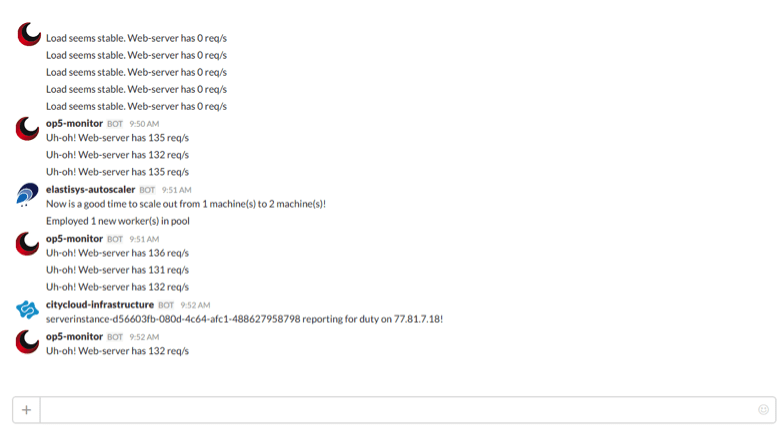 Load continues to increase and op5 Monitor notifies Elastisys autoscaler that requests a new VM from CityCloud.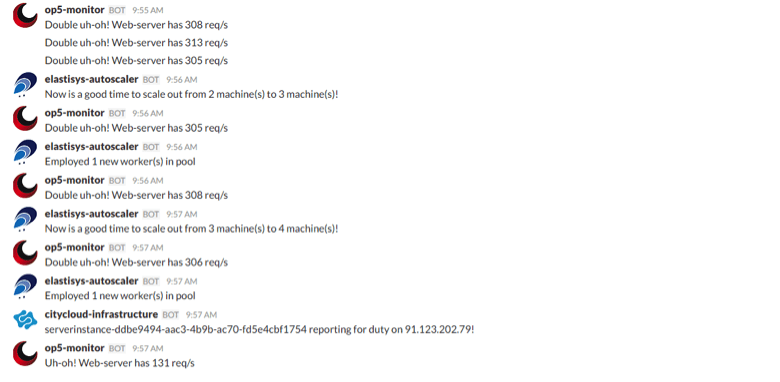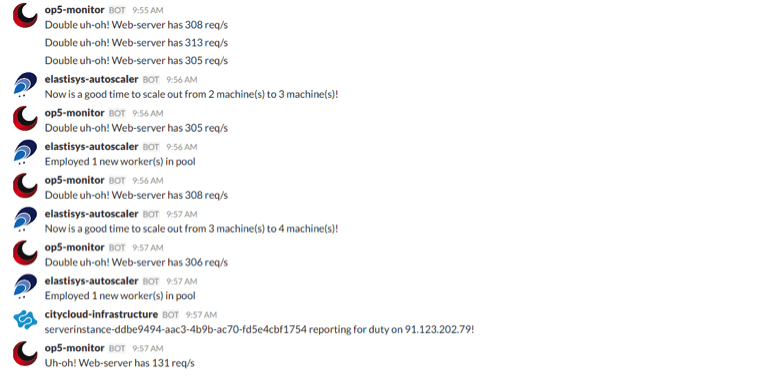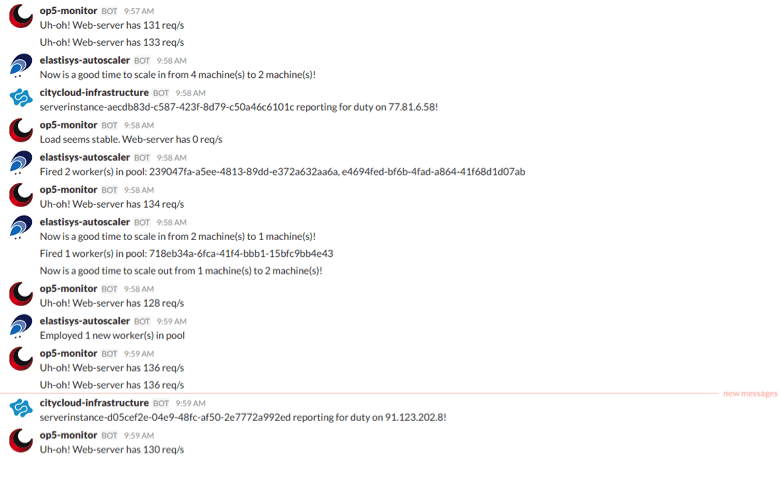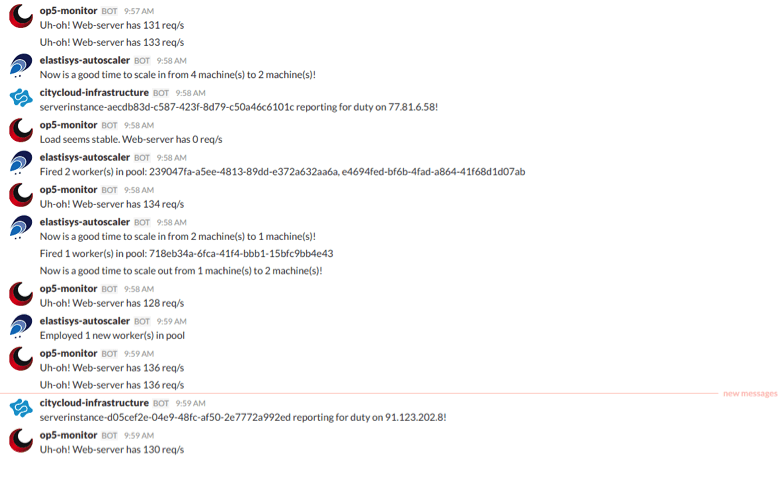 The load continues to go down and will resume to normal and when City Cloud receives the request from Elastisys, they will close down the server instances that are not in use.
Elastisys
The Elastisys cloud automation platform rightsizes cloud application deployments using a predictive autoscaling engine. It ensures that applications run cost-efficiently and are responsive at all times, even in the face of sudden load spikes. The below graph shows the internal workings of the autoscaling engine during the Slack demo, with application workload (number of web server requests per second) in red. The predicted number of servers needed to handle these requests (in green) is requested from the City Cloud cloud to ensure that the actual number of running servers (in blue) is sufficient to handle all requests without problems.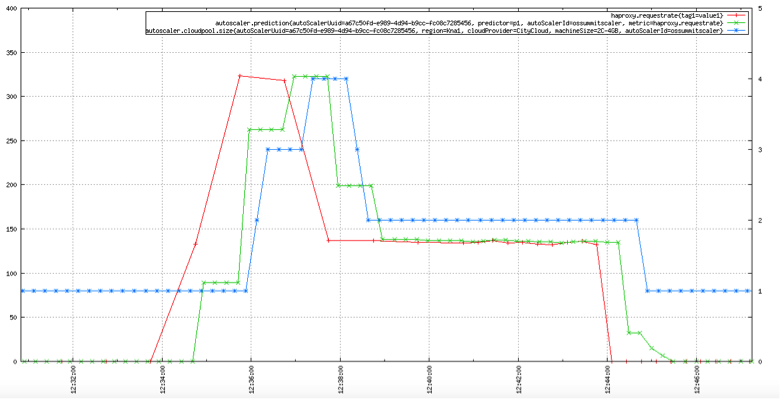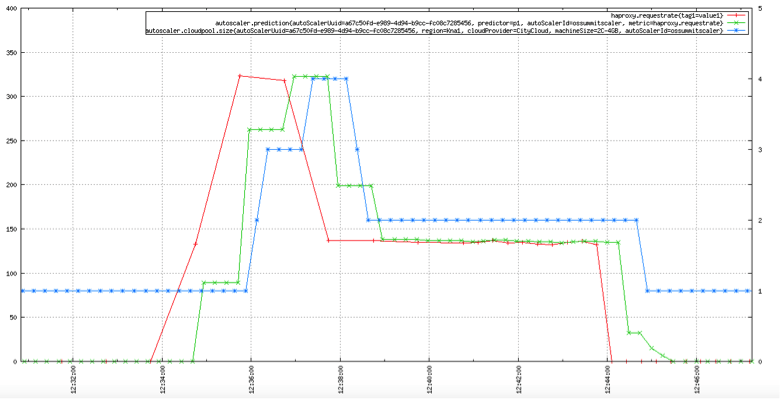 Our joint consensus from working on this project are that each open source organization or projects can do marvelous things on its own but, when you combine organization and like minded people, you can truly create new innovative ways to tackle problems that most organization are facing today in a quite simple way.
If you would like to learn more about this setup or have any questions concerning IT monitoring, please contact us!
Authors: Andreas Månsson, op5. Kim Hindart, City Network. Johan Tordsson, Elastisys
Contact elastisys and follow us on twitter (@elastisys), youtube (elastisys), facebook (elastisys), and linkedin (elastisys-ab). Or just send us an email at contact@elastisys.com.